What Tools Do I Need for Paracord Crafting?
When starting any hobby, it can be difficult to decide whether or not to rush out and buy the best quality tools right away. This is a dilemma for many beginner paracord crafters. What tools do you really need? What items should you "splurge" on? In this post, we break down paracord tools into three categories: essentials, niceties, and luxuries.
The Essentials
The only tools you MUST have in order to start crafting with paracord are:
Cutting Tool

This can be a knife, scissors, or different specialty tool.

Fire

This is used to heat-seal cord ends to prevent fraying. A Bic lighter works best, but a humble match will also service in a pinch when you are out in the field.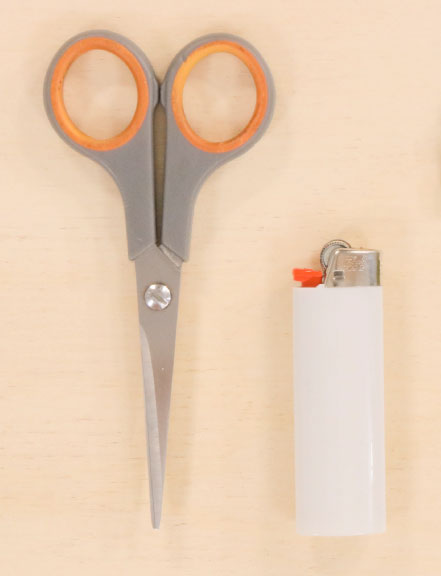 If you've never crafted with paracord before, take a look at our guide to making your first paracord bracelet.
Niceties
While these next tools aren't absolutely necessary to start, they will allow you to craft a larger variety of projects. Depending on the kinds of things you like to make, you may want to consider buying a few.
Fids

These work like sewing needles for paracord. They're an essential tool for anyone wanting to make more complicated bracelet weave or "laced" bracelets. Take a look at our post Which Fid? if you are wondering where to start with this tool.

Smoothing Tool

This is a handy little tool that will save your fingers from getting burned on molten paracord ends. Some people prefer to use a pliers instead.

Marlinspike

A marlinspike is basically just a fid with a handle. They are useful for untying stubborn knots and tightening elaborate ones.

Bracelet Jig

For most weaves, bracelet jigs are not a necessity, but they sure can speed up the process if you have to pump out 100 bracelets on a weekend for an upcoming craft fair!

Monkey Fist Jig

You obviously only need one of these if you are planning on making monkey fist knots. An extremely handy tool, nonetheless! Monkey fists make great keychains and decorations.
Luxuries
If you craft a lot with paracord or you want to sell your creations, there are a couple of tools that can really speed up your production time.
Belt Jig

Not everyone needs a 60" jig, but boy is it satisfying to complete your first paracord belt using one!

Hotknife

If you have any kind of paracord business or make bracelets for charity, a hotknife is an excellent tool for your assembly line. Not only does it cleanly cut your paracord, it also heat-seals the ends at the same time.
How about all you experienced crafters out there: What tools do you use the most? Are there other tools you would include as "essentials" or "niceties" that we left out?