What Is a Fid?
When I first started crafting with paracord, I had no idea what a paracord fid was. For those of you who find yourself in the same boat as I was, the concept is pretty simple.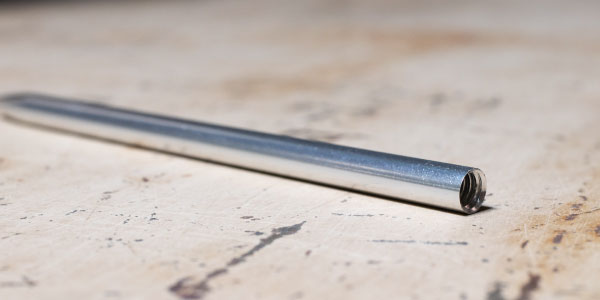 A fid is like a sewing needle for paracord. They're primarily used for threading cord through tight spaces like a knot or weave. Instead of an having an eye like a sewing needle, they have screw threading on the back end. After melting the end of your paracord a little, it can be screwed into the fid. Fids come in three main sizes to fit the various types of paracord.
This post will show you what size of fid you need for each paracord type. If you want an explanation of each of our paracord types side by side, read Why Are There So Many Paracord Sizes.
So, Which Fid Do I Need?
First of all, it should be established that nothing bigger than 850 cord, or smaller than micro cord, plays well with a paracord fid. It CAN be done; it's just a litle tricky. (More on that near the end of this post.)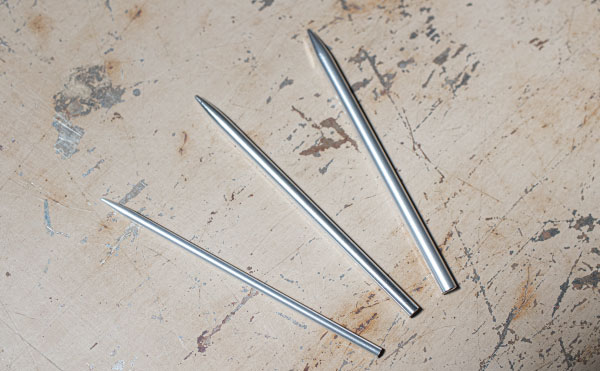 Fids come in three sizes: type I, type II, and type III. This follows the original military paracord types. Type III paracord is standard 550, type I is around the size of 95 cord, and type II covers some of the hazy ground in between.
Type I
A type I fid is designed to fit type I paracord, also known as 95 cord. It can also easily fit micro cord.
Type II
A type II fid fits 325, 425, and coreless paracord.
Type III
A type III fid fits 425, 550, 750, and 850. If you only buy one fid, this is probably the way to go. Read below for how you can make this size fid word with nearly any diameter paracord.
Other Fids
In addition to straight fids, we sell a variety of specialty fids and other needle tools. Tap the button to shop for a set of your own.
Using the "Wrong" Size Fid
If you currently only own 1 size of fid, you may want to think about getting a full set. Alternatively you can use the following methods to fit various sizes of paracord into the "wrong" sized fid for any reason. (Like using a small fid to thread a bigger cord though an exceptionally tight bracelet weave). Here are a couple of ways to make that work.
Melt More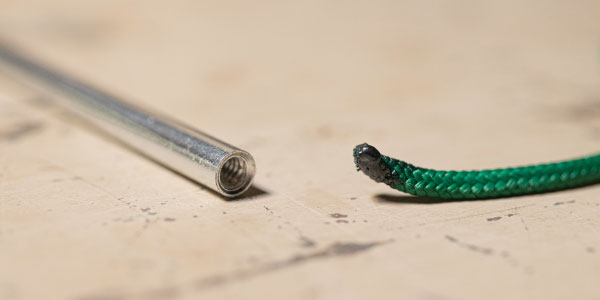 To make a small cord fit in a bigger fid, you can melt the end of the cord a little longer. Once you've built up a bigger ball of plastic on the end, it should fit into a larger fid. Pictured is 95 cord fitting a type II fid.
Fold It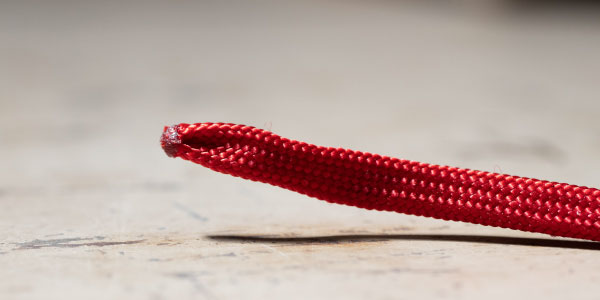 If you need to fit a large cord into a smaller fid, pull back the outer sheath and clip the inner strands shorter. Then you can fold the cord in half to make it narrower before nelting the end and screwing it onto the fid.
Frankenstein Lives!
One other useful way to use a alternate fid size is to take a small portion of the correct size paracord, and meld it onto the end of your desired cord. (In this way, you can fit 95 cord in a standard type III fid.)
---
How necessary are fids to your paracord creating? If you find yourself constantly frustrated with tying small knots and getting the ends of cord caught while working, give fids a try! If you only make normal paracord braclets, you may still be surprised by how helpful a fid can be.