Can Paracord be Fashionable?
In a recent post about the Meaning of Paracord Bracelets, we talked about how paracord has usually represented the toughness of the American military—to the point that some people dislike the idea of wearing a paracord bracelet just because they don't want to be thought of as a prepper or gun-toter.
But while paracord was origninally a military field supply, it can be used to make a HUGE variety of wearable products, many of which don't look at all military.
Paracord isn't just just for bracelets anymore. It can be used in clothing repair and gear modification too—all while looking stylish.
Paracord Bracelets
Paracord can be used to express a ton of styles. Over the last couple years, we've made over 100 paracord tutorials on YouTube with more on our website. Here are some of the varying styles we've come up with—or brought to you from other members of the paracording community.
Authentic
One of the coolest ways to make paracord creations stand out is to combine it with other materials, such as leather and beads.
Traditional
The classic Turk's head design will never go out of style. Make it out of paracord or natural cotton rope.
Edgy
There's nothing sissy about a barbed wire paracord bracelet. Click the thumbnail for the tutorial.
Elegant
Yes, paracord can even be feminine or formal.
Sporty
Because it comes in so many colors, paracord is great for representing your favorite team. Check out our themed kits for football, hockey, and college sports.
Kids
Paracord crafting is great for kids' friendship bracelets. Kids love to show off things they've made themselves.
Paracord Gear Mod and Repair
Gear enthusiasts like the those of the Tom Binn backpack community often modify their packs with paracord zipper pulls or other accessories. This allows them to add a touch of color, or even functionality. Take a look at thier forums for more ideas. With all of our colors, you can match anything!
Footwear
A Google search for paracord sandals pulls up tons of ideas for making your own footwear. Find some inspiration and make some to suit your style.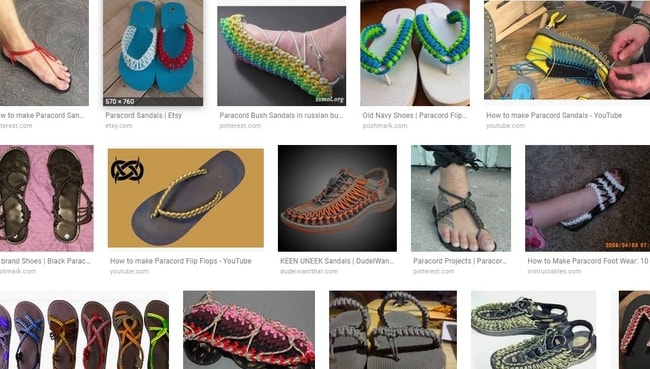 Have you ever used paracord on clothing or gear? Share your own ideas! Do you think paracord can be fashionable?
For more ideas, take a look at these similar blog posts:
How to Replace Zipper Pulls with Paracord
Paracord and Rope Table Decorations
How to Replace Drawstrings on Hoodies and Sweatpants