5 Easy Variations on the Cobra Weave, Part 4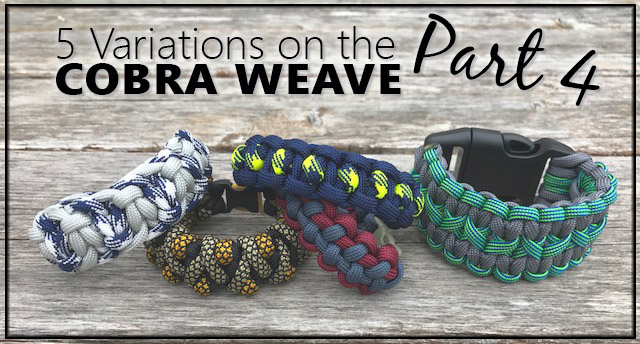 Well, we're back at it! This might just be one of my favorite topics to write about - Paracord for Beginners: 5 easy variations on the cobra weave, part 4! Yes, FOUR.
As I've said many times, there are so many bracelets where the base of it is a cobra/solomon and you might not even realize it. The essence of this "series" of blog posts is that if you can do the cobra, then you can do these as well.
These are natural next steps if you don't know where to go from the cobra or are looking for new and easy variations on the solomon. With these bracelets you already know half the weave!
Be sure to see Part One, Part Two, and Part Three for different cobra variations that include weaves such as the Thin Blue Line, Solomon V Bar, Caged Solomon, and more.
If you're really new to paracording and don't the cobra, here is the weave that started it all:
In no particular order of difficulty, here are 5 easy variations on the cobra weave.
#1 Solomon's Slanted Path
This is a very simple variation as it just adds in one accent cord that comes from your base cords.
#2 Solomon's Fire
This one is a touch more difficult than the last, but it's a fun one. It has two accent cords that are done just like two bracelets from previous variations on the cobra weave blogs; the Solomon V Bar and the Solomon's Tongue.
#3 Solomon's Daughter
This variation has a cool look to it that makes it a little wider than the cobra and can be fun to mix and match colors/patterns of 550 paracord.
#4 Double Wide Cobra
Love wide bracelets? Here you go! The Double Wide Cobra is the perfect next bracelet for your collection. This bracelet is double the fun and double the width.
#5 Stitched Solomon Bar
This bracelet is a great one for making baseball or softball themed as it resembles the stitched on the balls.
Give these 5 variations on the cobra weave a try and add to your paracord collection!
What other weaves would you add to this list? I'm always looking for more bracelets that are based on the cobra!
Let us know on Facebook, Twitter, Pinterest, and Instagram.
Paracord Love, Lauri