Which Buckle Size Should I Use?
"I'm making a paracord bracelet. What buckle size do I need?"
This is one of the most common questions we get asked. If you're a beginner crafter, you might be wondering what size of buckle you need for your project. In this post, we talk about our different buckle sizes and when to use each. Buckle up!
How are buckles measured?
Before we get into which buckle sizes work best for different projects, let's go over the anatomy of a buckle. Buckles are not measured by their exterior length or width. Instead, a buckles size is determined by interior dimensions of the anchor hole. A 5/8" buckle has a hole that is 5/8" wide. This is important when working with nylon webbing. A 1" buckle will fit 1" wide webbing.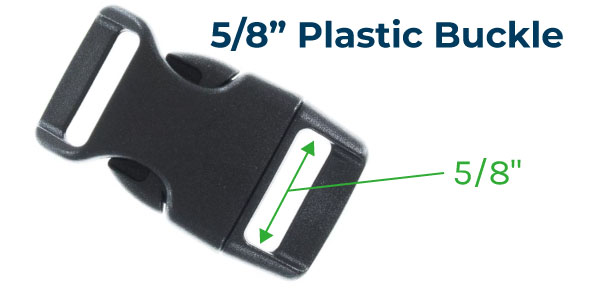 Below is a chart for some of our most common buckle sizes that includes the number of 550 paracord strands that fit through each size hole:
| | | |
| --- | --- | --- |
| Product | Strands of 550 | Good for… |
| Breakaway buckle | 1 | Necklaces, lanyards, children's bracelets—designed for safety to prevent strangling |
| 3/8" buckle | 2 | Basic bracelets like cobra, fishtail, etc.—not designed for heavy strain |
| 1/2" buckle | Up to 3 | Paracord Bracelets—moderate durability |
| 5/8" buckle | Up to 4 | Wider bracelet weaves |
| 3/4" buckle | 4-5 | Widest bracelet weaves, dog collars |
| 1" buckle | 5-6 | 1" Nylon webbing, dog collars |
| 2" buckle | 11-12 | What the heck are you making anyway? |
While 550 paracord is 4mm (5/32") thick, it is also somewhat compressible. Depending on the quality of cord and the stubbornness of the crafter, more paracord strands may fit through these buckles than the chart indicates.
Using Buckles
Paracord can be tied onto buckles in a variety of ways. The most common knot used for this is the larks head/cow hitch knot. To learn how to do this for yourself, watch our video on setting up your first paracord bracelet.
We hope this guide was helpful to you. If you have other questions you want us to answer, let us know! We read all blog comments and emailed questions. If there is a topic you think would make a good blog article on Paracord Planet, we would be happy to consider your ideas!