Things to Do with Neon and Glow Paracord

Photo and Net by TreeNet Willy
A couple of items we don't often post about are our neon and glow-in-the-dark paracord colors. While these varieties are not well suited for most utility/survival use (because they're often made out of polyester), they have a huge variety of fun decorative uses.
Here are some of the coolest ways we've seen these varieties of paracord used. Have you used glow cord or neon colors? Show us what you've made!
Glow-in-the-Dark Paracord
Bracelet Accents
Bracelets with glow cord look awesome when the lights go out. You can even create secret patterns that come alive only in the dark. Tap the image below to learn how to make this glow bracelet inspired by "Mothra" from the 2019 Godzilla movie.
Flashlight handle
Cover the handles of useful tools in glow cord so you can easily find them in the dark. Great for flashlights, knives, and keychains. Check out this pineapple wrap by Stormdrane.
Stormdrane's Blog
Neon Paracord
Neon colors are useful for putting bright accents on your paracord creations, but the place where neon paracord really shines (quite literally) is under a blacklight. Take a look at some of these fantastic creations made by TreeNet Willy for various music festivals.
The Neuro Net
Underneath a giant geodesic dome, this paracord net and laser light show was set up as part of the Sonic Bloom music festival.
Tramp Hammocks
This lounge net was made by constructing a paracord net inside a trampoline frame. They make a great place to hang with friends.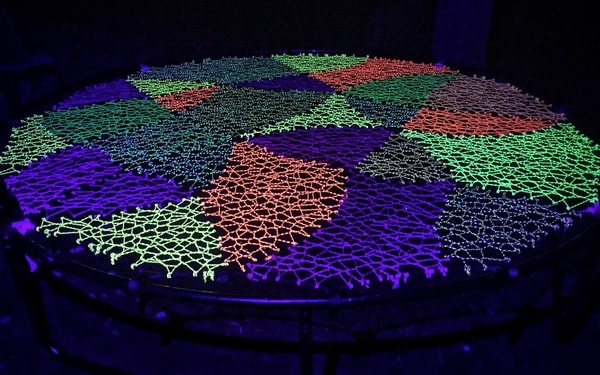 But you don't have to make giant nets or complicated wraps to have fun with neon and glow paracord. Even a simple bracelet looks cool in the dark.
If you haven't already, check out the neon colors and glow varieties in our store. Search "Neon" or "Glow" to find it in other sizes.
What have you made with glow cord or neon? Comment below!