For knotting enthusiasts, nothing is more sacred than the ABoK. The Ashley Book of Knots, published in 1944, contains a wealth of knowledge about knots, their uses, and how to tie nearly 4,000 of them. It is considered the most complete knot tying guide of all time.
The fact that this book exists at all is a bit incredible. Written over a period of 11 years by Cifford W. Ashley, the book contains over 7,000 illustrations penned by himself. While 11 years for writing is a long time in itself, the research necessary to create such a book—before the advent of the internet—took far longer than a mere decade.
Each chapter is filled with historical background and common uses for many of the knots. Here's an example page: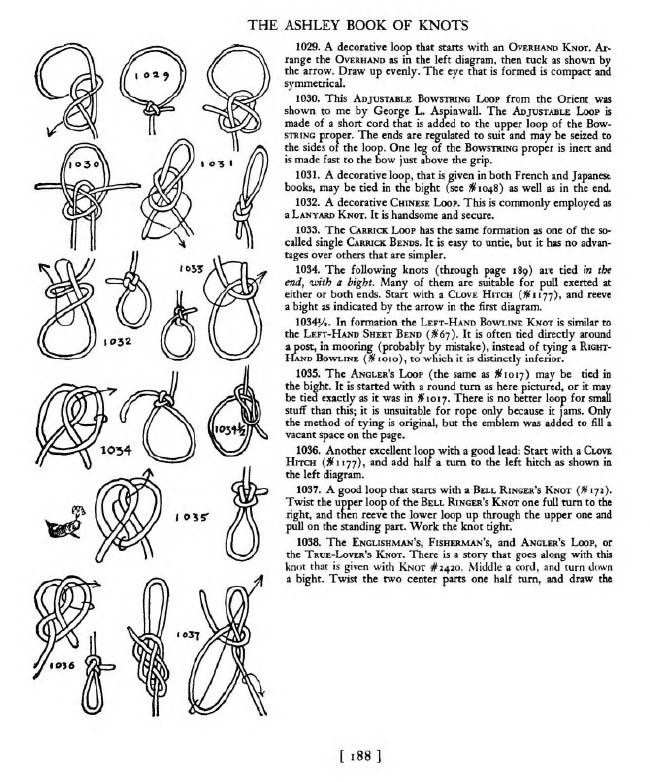 ABoK can best be thought of as an encyclopedia of knots. Each knot is given a number and listed next to similar knots. Once you know the number, you can easily locate the knot.
Because all knots are somewhat related, some show up more than once throughout the book in different contexts. For instance #1249 is the same knot as #176
ABOK goes beyond practical knots and includes many of the common decorative knotting techniques of his and previous generations. A whole chapter is dedicated to square knotting and the various techniques involved. Not surprisingly the very technique used in making paracord "cobra" bracelets is included in this book. In case you are interested, this "Solomon bar" as it is called, is ABoK #2496. Many of the patterns used in macramé can also be found in this chapter.
Other subjects in the ABoK that were beyond the scope of this one article include: trick and puzzle knots, rope splicing techniques, block and tackle systems, and personal anecdotes—along with tons of other interesting tidbits about seamanship, rigging, and knotwork.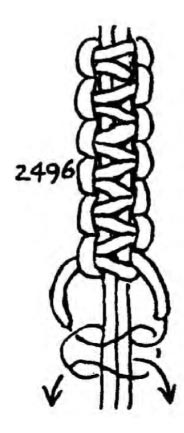 Today, anyone can view this fantastic book online through The Internet Archive. While having the physical book as part of your library is useful, the online version is searchable—which makes this definitive resource even more valuable.
Get your own electronic copy here: The Ashley Book of Knots
If you want to learn more about knots, read our blog series "Knot Interested" or watch our YouTube playlist on knots.