Stack 'Em: The 5 Thinnest Paracord Bracelets
Paracord bracelets. They're fun to wear, use, stack, and make.
We know they're practical, great for prepers/survivalists, and crafters alike. But what about the fashionistas?
Sometimes a paracord bracelet can be thick (Double Wide Cobra, Trilobite) and you can't really wear more than one at a time. Other times, when you have multiple bracelets the width of a cobra you can sometimes get away with maybe two...
unless if you have short arms like me and that gets too thick. I don't know about you, but I love to wear stackable bracelets, but I hate when they get too bulky. A very thin paracord bracelet is a great solution to that problem.
You can wear 2, 3, or 4 at a time!
Here are 5 thin paracord bracelets you can stack:
#1 Adjustable Paracord Bracelet aka Friendship Bracelet
#2 Adjustable Paracord Wrap Bracelet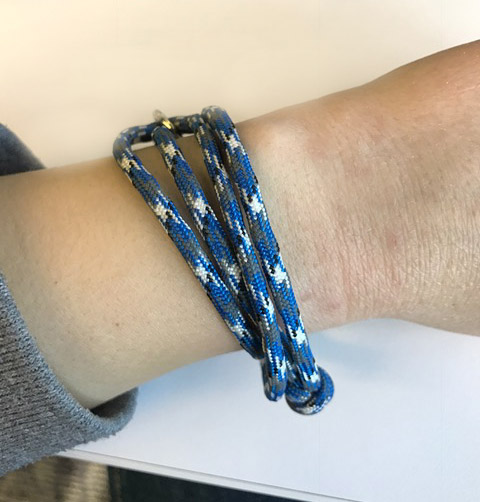 This one also uses the adjustable knot like the bracelet above. However it just uses one adjustable knot to complete the loop, which can now be sized to your liking for however many times you want to wrap it around your wrist.

#3 Diamond Knot Bracelet
I don't have a tutorial for this one either, but it's very EASY and dainty.
Step 1: Fold paracord in half
Step 2: Make a diamond knot at the length you want your bracelet and then cut off the ends
Step 3: Gut a portion of the paracord you cut off, wrap it around the end without the diamond knot, and that forms a loop
#4 Mandala Knot Bracelet
#5 Buckle Bracelet
This one is also very simple. Use a 3/8" buckle, form a cow's hitch on one end. Then just loop it though the other end of the buckle and knot it however you like. You could do a snake knot, half hitch, or even simply burn the cords really well together.
What thin paracord bracelets do you wear?
Let us know what you would add to this list on Facebook, Twitter, Pinterest, YouTube and Instagram and be sure to follow, like, and subscribe!
Paracord Love, Lauri