Spruce Up Your Holiday with Metallic Paracord

The holidays always remind me of sparkles and shiny things. Who doesn't love a glittery ornament, snowman, or wreath?! If you want to work some sparkle into your holiday decor but don't want to deal with the inevitable cleanup of glitter, we have you covered! Introducing the solution to your holiday decor needs: metallic paracord!
Metallic paracord is the latest and greatest in our massive paracord selection. It has the same properties as regular 550 paracord, but is laced with metallic tracers that make the cord shiny and sparkly. Available in 5 different colors, these are sure to add the right touch to any holiday decorating you may be involved in. Not only is it perfect for decor, the shiny cord can be used for many more things such as stocking stuffers, handle wraps, gift wrap, and more! I have found 4 awesome ways to work my new favorite cord into my holiday:
1. Wire Paracord Tree
Have you ever used wire in a paracord project? It's super simple and can be bent into whatever shape you like! I used a 3 foot section of wire to twist into a tree. I used Green Knight, gutted the cord, and stuck the wire through the shell. I wrapped the cord around a water bottle to help give it some shape, and twisted in smaller circles as I got to the top. I then knotted pieces of scrap cord and melted them together to create the "ornaments" and tied a bow for the top of the tree. This project is great because the wire can be bent into any shape. Make a few of these trees to put on your mantle, bend one into a candy cane for the tree, and more!
2. Garland
Wrap this awesome cord around your tree, mantle, or staircase banister to add some shine to your home! I wrapped Gold Knight around this small decorative tree to spruce up my desk.
3. Paracord Pens and Zipper Pulls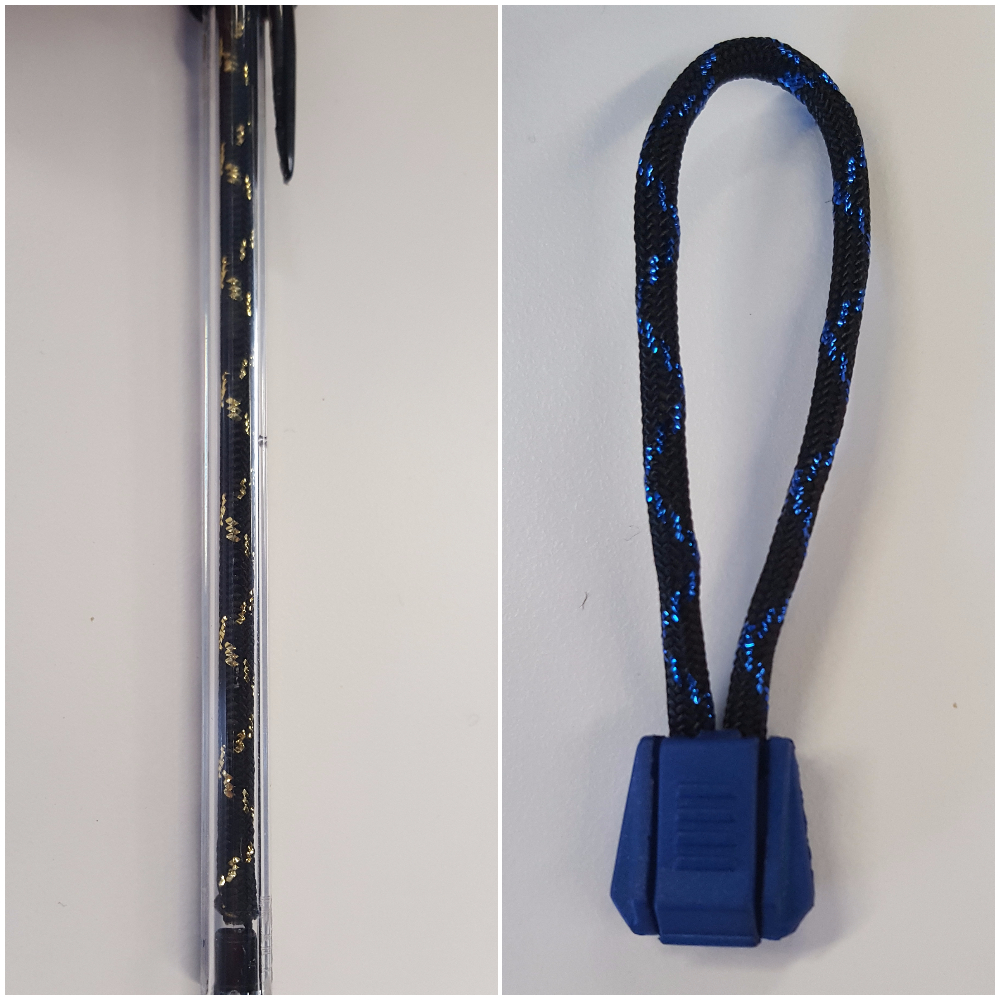 Add some sparkle to your next gift basket with metallic paracord in pens and zipper pulls! Requiring less than a foot of cord, these projects are an easy and fun way to use your scraps. Gut some scrap cord and insert in a clear pen. They take a matter of seconds to make, and are a great gift to hand out to coworkers! (Pictured above are Gold Knight and Blue Knight).
Use a zipper pull tab and a few inches of cord to create a zipper pull for your jacket, backpack, or luggage.
4. Bracelets & Key Chains
Of course we can't talk about new cord without mentioning how AWESOME it looks woven into a bracelet or key chain. Add some sparkle to your next paracord project and impress your friends and family with your enhanced creations! Woven bracelets or key chains are an awesome stocking stuffer that is sure to please! ( Dark Night and Red Knight are pictured).
How will you use Metallic paracord this holiday season? Let us know by sharing pictures with on our Facebook, Twitter, Instagram, Pinterest and Youtube!
Peace, Love, and Paracord,
Brita