Paracord Crafting With Kids

It takes a special kind of person to give children something as messy as paint, and then be patient enough to watch them develop their skills from ground zero. If you aren't ready to devote that amount of time and energy to kids' art projects, maybe paracord would be a good option.
Paracord and Kids
Paracord is less messy than paint and is a great project to do with kids. Aside from melting the ends of the cord, there is little that kids can't do for themselves.
In many ways, paracord resembles the rope and plastic lace projects you probably made at summer camp when you were a kid. Paracord, however, offers a durable alternative to the typical kid's craft. It will look better and last longer than cheap art supplies. Instead of making a throw-away project, kids can make something cool that's going to last.
I recently spent a day in a school classroom teaching students how to make paracord bracelets. It was a lot of fun! Even the kids that seemed not to enjoy it as much were showing off their bracelets to their teachers afterward.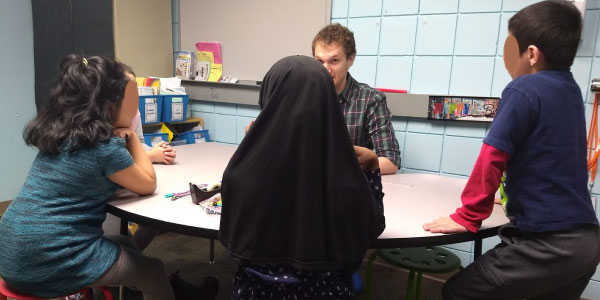 My coming into the classroom was part of a reward day for ELL students who just finished their standardized testing. The small group size worked really well. If you want to do paracord crafts with a larger group of students, make sure to have a few adult assistants that can explain things one-on-one to students who need a little more help.
What Worked
The kids really enjoyed this project! It was something new and exciting for them. The best part was that they got to immediately take home what they made. No waiting for paint to dry!
The kids loved being able to pick out their own paracord colors. Many of them gravitated toward the brightest patterns, but I made sure to have a couple of basic solid colors on hand for those that preferred a less bold bracelet.
For the youngest kids, I did the first knot for them. This way, I could ensure that the length of the bracelet would not change as the first knot was locked into place.
To keep the bracelets in place as they tied knots, I taped a buckle or completed bracelet to the table and snapped their buckle into it. This adequately held things in place for most of them.
Teaching and completion of the bracelets usually took around 45 minutes. This time varied depending on group size, but a school class period was about the perfect amount of time.
What Could Have Gone Better
Overall, the event was a big success, but there are a few things I would do differently next time.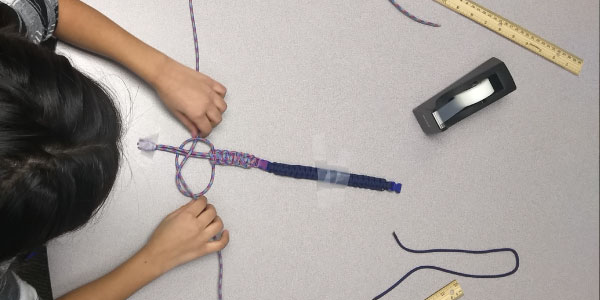 If I do this again, I would like to have a bracelet jig for everybody. Most of the kids did fine with their bracelets taped to the tabletop, but having something to hold their entire bracelet in place would have sped up the learning process.
While the size of a 3/8" buckle is ideal for a child's 550 cord bracelet, next time I would use a 1/2" buckle. The kids would have a much easier time threading cord through the larger holes.
Why Craft Paracord with Kids?
Paracord crafting with kids can be more than just fun. I watched the kids demonstrate and practice a number of skills.
Listening to directions
Following directions was essential for learning how to make a bracelet. Because it was an activity they enjoyed, nearly all the students enthusiastically gave the project their entire attention.
Advanced motor skills/dexterity practice
Some of the kids are at an age where they are still developing fine motor skills. When I craft a paracord bracelet, I do two or three things with each hand all at once without noticing. Two fingers hold one cord while I tie a knot with the others. For some of the younger kids, their whole fist could do a total of one thing at a time.
Problem solving and finding mistakes
The kids impressed me with their ability to notice when they had tied a knot wrong. I think only one student left the room with a bracelet that had been tied incorrectly. (He had done two same-side cobra knots in a row one time instead of alternating.) Most of the time, the students said to me, "Oops, I think I did something wrong," without me telling them they had made a mistake.
Expressing artistic identity
When they came into the room, the students each got to pick their paracord color. It was interesting to watch how some of them chose right away, while others saw it as the most important decision of the entire project.
Learning to teach
One of the students went home with some extra paracord and actually taught his brother how to make a bracelet. It surprised me that after just one bracelet, he had learned the method well enough to teach someone else!
---
Paracord crafting with kids was fun. It was a good lesson in patience for me, but as I said, much easier than other art projects. The kids all like their bracelets and still show them off to teachers.
Have you ever led paracord crafting for kids? Tell us how it went!
Get 20% Off Your Next Order!
Subscribe to receive exclusive offers, new tutorials, fun projects and more!