It's Madness! 2017 Paracord Bracelet Bracket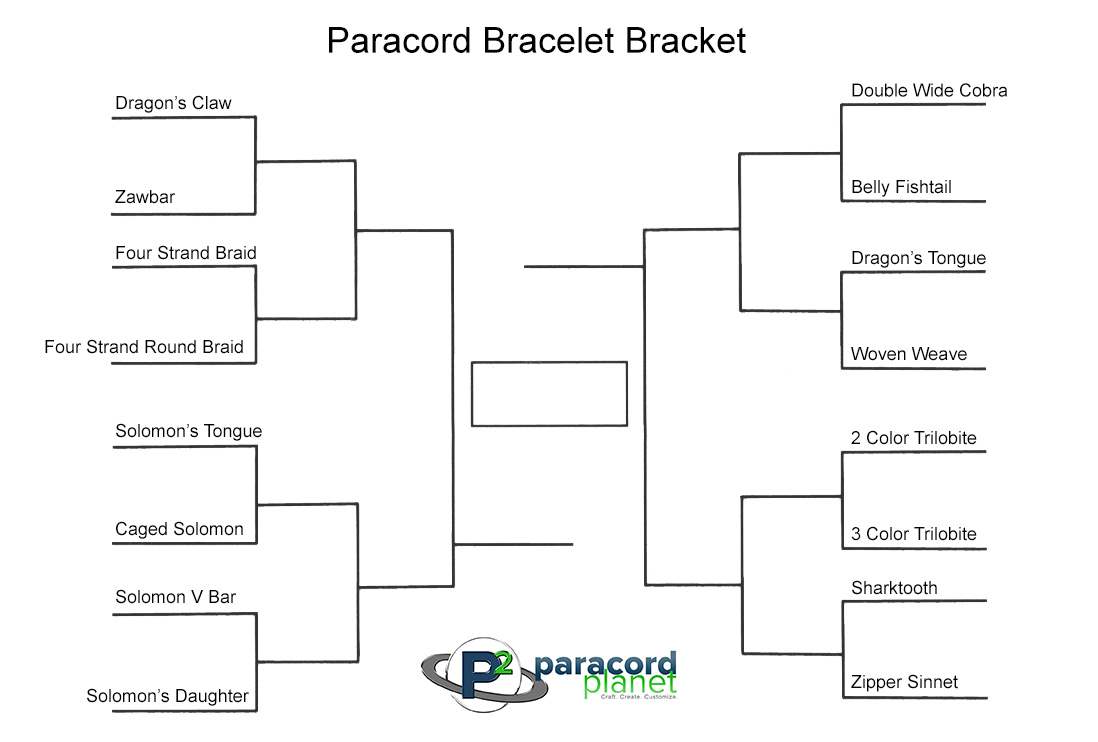 March Madness is finally here! I know some people wait allll year for the sweet 16 - the games, the fun, the competition. There is nothing quite like the sweet success of your alma mater. Some basketball fans are incredibly dedicated to their teams - clothing, accessories, and even body paint. It's an exciting time!

There's a lot of basketball in just a couple of weeks...but what do you do during half time? Make a drink run, cook up some appetizers...or do you keep your hands busy and make bracelets for your favorite team? You know you have to be repping their colors or are you even really a fan?

In the spirit of the Sweet 16 I'm bringing you the Sweet 16 of paracord bracelets. Cast your votes and lets see what bracelets win in Paracord Planet's Sweet 16 Bracelet Bracket! Make sure you vote and we'll let you know the winner of each match-up.

First up: Dragon's Claw vs. Zawbar these two bracelets are both a tad wider with a more unique weave

Next is Four Strand Braid vs Four Strand Round Braid both round bracelets, but with very different looks
On this court is Solomon's Tongue vs Caged Solomon these two bracelets both use an accent cord peeping out
Next up is Solomon V Bar vs Solomon's Daughter both very easy variations on the cobra, this is an exciting match
Continuing Round 1 is Double Wide Cobra vs Belly Fishtail both are bigger and wider versions of their namesake
Next is Dragon's Tongue vs Woven Weave both have a more "woven" look make them similar but still unique
This will be a close one 2 Color Trilobite vs 3 Color Trilobite how can you even choose!
Last match-up is Sharktooth vs Zipper Sinnet both have a slanted "spiked" effect to them
With so many sweet matchups how will you decide! Stay up to date by casting your vote and following the Paracord Planet Sweet 16 Bracelet Bracket on our Facebook page! Let's see who takes the Champion title!
Paracord Love, Lauri
Follow us on all our social media platforms Facebook, Twitter, Pinterest, YouTube and Instagram.