Hangin' with Treenet Willy
Remember the Moab Monkeys who built that paracord spacenet spanning a deep canyon in Utah? We've found someone who makes—and sells—paracord space nets. In fact, he's soon going to be selling DIY kits so you can make your own. Or you can hire him to make a custom tree fort out of paracord in your own backyard!
We had the opportunity to talk with "Treenet Willy" about these incredible-looking hangout spots.
If you like what you see, consider subscribing to our newsletter in the page footer. Also, be sure to look him up on social media and visit his website to view more photos and videos of his awesome projects!
---
TreeNet Willy's Custom Rope Platforms for Elevated Living

Luke: So, Will, what do you do for work?

Will: As of the last few years, nets have been one of my main sources of income. I sometimes work small construction projects and flipping houses with my ol' man, but since I started TreeNet Willy's in 2016, nets have been my primary focus and income.

Luke: Why and when did you start making treenets?

Will: Treenets were introduced to me in early 2008 by my cousin, Peter Reynolds, who at the time was building these nets with his friends hundreds of feet up in the redwoods of Santa Cruz, CA. I remember stepping off the porch on his third story apartment into a massive treenet filled with blankets, pillows, and xmas lights spiraling up the trees.
Needless to say I was totally hooked and started making them back in my new hometown of Durango, CO shortly after. My first treenet was in August of 2008 when I was 16 and took me about 3 days to fully complete. Thankfully I've become drastically faster since then, as a big part of treenet construction is conceptual.
Luke: What makes tree nets so great?
Will: Oh man. so many things! Firstly, treenets provide a place where one can connect, reflect, and immerse themselves in the natural world around them. Personally, weaving and relaxing in these nets are my therapy and create an environment where I can find my peace of mind. On the other hand, the ability to create these nets at any size means multiple people can comfortably hang out on the same platform, something you can't do with just a hammock. I've had 24 people in the treenet at my neighbors house.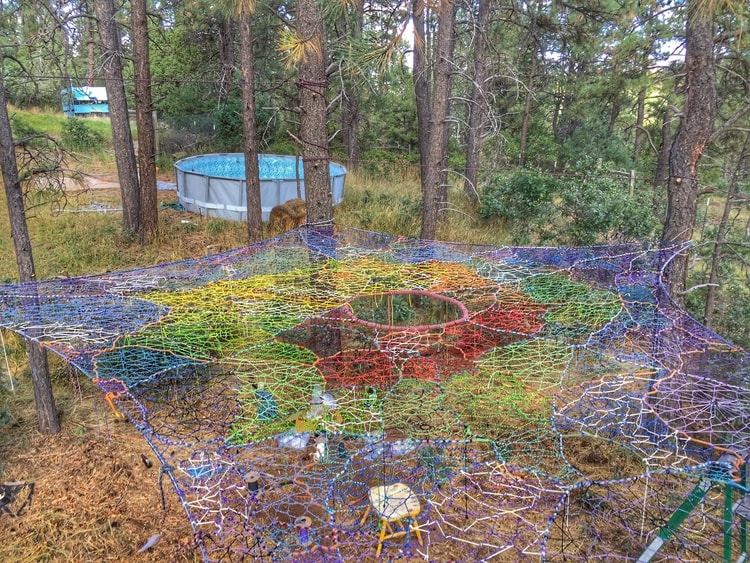 One of the coolest and most difficult things about making treenets is how every string is hand placed, making it totally unique. Trees always present a different canvas, making it very difficult to reproduce the same thing twice in two separate locations.
Nowadays, I always try something new, whether its color theme, accessories like o-rings, or the weave itself. There will always be more creative ways to build these nets, trampolines, wormholes, 3D shapes like spheres there are endless possibilities.
Luke: Are most of your creations a semi-permanent installation, or are they able to be easily moved?
Will: So for myself, I use the term "treenet" for all my semi-permanent installations and the term "spacenet" for my temporary set-ups. The term spacenet came from a group who calls themselves the Moab Monkeys. The Moab Monkeys were the first to build massive nets spanning over the canyons of the Fruit Bowl in Moab, Utah.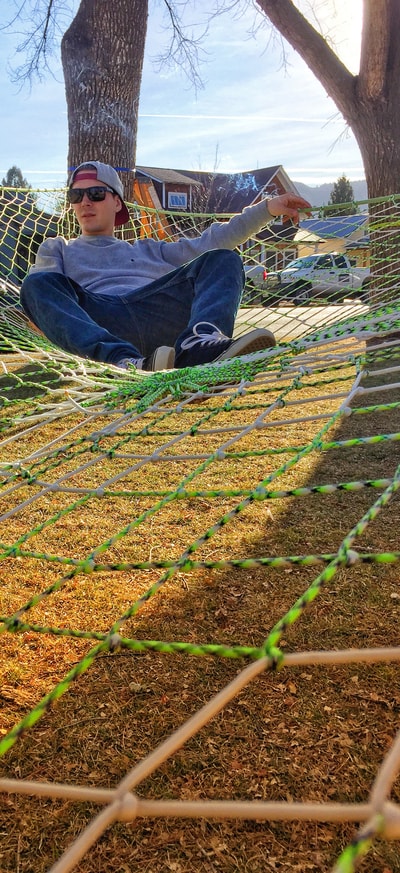 I make a standardized spacenet hammock, which has three anchor points where I use ratchets straps to get the net to the proper tension. My standard triangle spacenets hold 1-2 people and are small enough to put in a backpack and rig up in in various places.
Luke: How many tree nets do you think you have made?
Will: Over the last ten years, I bet I'm little shy of 100 treenets and close to 50 spacenets. I've only been doing space nets for about a year now, so that number will drastically go up with festivals and other similar events this summer.
Luke: How much paracord/rope goes into each of these nets?
Will: The amount of paracord I use greatly depends on the dimensions of the net, as well as the size and number of backrests/retaining walls. A 10x10ft platform would use somewhere around 3-4 thousand feet of paracord. I like to make the holes in the grid small enough, so that someone won't put their hand or foot through the net. The backrests and retaining walls require less paracord, but I still go through a few thousand feet wrapping around a 10x10ft grid.
As far as rope goes, I typically use climbing rope for both the perimeter and for the interior structure of the net. I try to use static rope when I can, but typically I get the dynamic for free from climbing gyms.
Luke: What has been your favorite project or client?
Will: I have had some pretty cool projects in this last year. August of 2017, I met up with Brian Mosbaugh and some of the Moab Monkeys. Together we built a spacenet that was around 20x30ft for Jaegermeister's yearly Ice Cold Gig event. The net was shipped out to the mountains of Queenstown, New Zealand where the U.K. electronic group, Modestep, performed their new single Higher, while suspended over a one hundred foot drop.
Luke: Wow! Do you have any other good stories about making rope nets?
Will: One of my favorite net stories was when I was at a concert at Red Rocks. I was waiting in line with my buddies on the huge staircase going up and I recognized a friendly face from my hometown of Durango. He starting talking about these nets up at the college, Fort Lewis, that he loved to chill in every week. I told him that I'm the dude that makes all the treenets around town and he started freaking out. Then the guys in front of me, who we weren't talking to but clearly heard the whole conversation, turned around and started freaking out saying that they've been there too and its one of their favorite places in Durango. It's amazing how many people find out about these special hangouts. It's hands down one of the best feelings in the world to be able to create such a unique experience that so many enjoy.
Luke: Is there anything else you would like our readers to know about you, your work, treenets, or anything else?
Will: Over the last decade, treenets have created their own small community of weavers all over the nation. Most are intertwined with the slackline community, the creators of the spacenet. Im actually one of the few net weavers that doesn't come from the slackline community, approaching it with my own artistic style and focusing on accessories and the small details of the net. At 26 years old and a decade of weaving, there are very few, if any, at the same age with the same treenet experience.
In addition, I will be making standard DIY spacenet hammock kits in the near future for anyone trying and create their own net. They will consist of perimeter rope, color-themed paracord, and a how-to instruction guide.
Luke: If someone would like to contact you, how can they get in touch?
Will: The best way to contact me is through my email at treenetwillys@gmail.com. I do have a website at treenetwillys.com and I'm on Instagram and Facebook with much more of my work.
Luke: One final question: What keeps you creating?
Will: My favorite thing about nets is being able to create a common space that myself and others can enjoy. There's no other feeling like watching someone else fall in love with the small world I've created with these nets. It's great to be able to spread the love and share my work with others who enjoy it just as much as I do. The endless smiles from people I've never met before, that's the best part.
Luke: Will, thank you so much for telling us about your work! My favorite thing about working at Paracord Planet is hearing about what our cutomers make and what motivates them. I seriously want to go and make one of these myself now. We all hope for your continued growing success!
---
What do you think? Would you hire TreeNet Willy to make a tree net in your backyard? Be sure to follow him on social media to see all the awesome photos and videos of his work—and don't forget to comment here as well!
Subscribe to the Paracord Planet Newsletter for more stories like this. We post new content at least once a week!
Paracord Planet: Helping you create your secret sanctum.