Guest Blogger "Purple Panther Paracord Blog"
First, I would like to thank Paracord Planet for the opportunity to do this blog for them. I would also like to thank the Facebook people for liking my 'biker get back whip' so I can do so.
Obviously, I would like to talk about paracord and the different cords with which I have used to make my projects. However, I would be telling a lie if I told you that cording is an easy hobby. The cord will take its toll on your hands especially if you make sure the weave you are doing is tight. It will cause blisters and later, calluses. Saying that though, the end product is always something you can stand up and say, "I made that!"You can help to stop the various ailments you will get on your hands by using some snug leather gloves. A good example is a pair of driving gloves. They also make you feel posh. ;)
I started off using 550 nylon paracord, with the good old cobra and king cobra weaves. The first item I made was a rather loose whistle bracelet for me. The buckle I used was a black, plastic side-release whistle buckle with black paracord. This was not the first time I have used paracord though; I used it a lot back in the days of being in the armed forces. One of the uses was to keep my side arm attached to my equipment; others were every day simple things like a boot lace replacement.
Today, you can purchase many different types, colors, and sizes of cord in a variety of lengths. I have used both nylon and polyester cords. Both are good to use, but I prefer the nylon. This is due to the polyester being a little too difficult to weave tightly. Other people disagree with me and prefer polyester. It is, after all, a matter of taste. Most of my projects I make are made with the 550 nylon paracord. I also use the micro cord to decorate these projects. The micro cord is a type one cord which has a safe working load of 100Ib; unlike the 550 paracord which is a type 3 cord with a safe working load of 550Ib.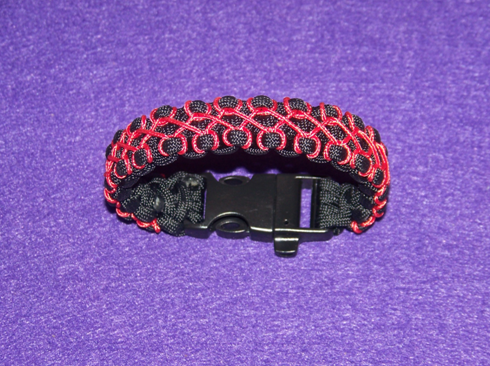 A question that is asked a lot of the times is "What cord is the better to purchase?" From my experience, the best to purchase and use safely is the cord made in the U.S.A.The colors are more defined. It does not stretch and feels different to the touch. I have purchased cord made in China; the difference has to be seen to believe. However, this again is down to personal taste and how much you wish to spend on the cord itself.
I have been weaving paracord and selling the projects I make on eBay, Facebook, and locally to stores. I have even done the occasional yard sale or flea market. The best selling of my items is the basic bracelet quickly followed by the adjustable rifle sling, dog leash & collar, and my latest endeavor, the biker get back whip. With most items that I sell, I will always include a matching key fob. This is because I always over-calculate the cord used. You can never be too careful.
The paracord bracelet is the most made and sold paracord item you will find. Buckles can vary in width for both plastic and metal. Buckles can have items in or on them from a whistle, compass, and a fire starter. With some you can get all 3 together. Some of the metal ones have a water tight compartment for storing anything small including tablets or even a small fishing kit. The paracord for these bracelets, as with anything paracord-born, comes in a whole lot of colors; you dream it, you can find it. These also come in a variety of safe working loads. The bracelet pictured below has a fire starter whistle buckle with a compass woven onto it; along with some monofilament line, a weighted hook and some electrical tape inside the first layer of cord. This type of bracelet is known as a survival bracelet.
The adjustable rifle sling is an awesome project to make. You will need a basic sewing knowledge to make the adjustable part. When weaving, it is better to use a jig as each sling after the first will be the same size. When making the slings, I do prefer to use metal hardware as you can never be too sure with the plastic parts if they will hold up in extreme weather and usage. Obviously, the swivels are always going to be metal. I use 1" heavy-duty nylon webbing which, with the king cobra weave, looks great. You can use either one color of cord, or join and use two colors.
Dog collars are also a nice project to make. However, as with the sling, you will need to use all metal hardware. A few different types are available to use, from the side release buckle to the martingale chain. The D rings are available in a variety of colors as well but please, stick with metal ones. The weaves available to use for these are endless. The pictured one is of the double wide cobra.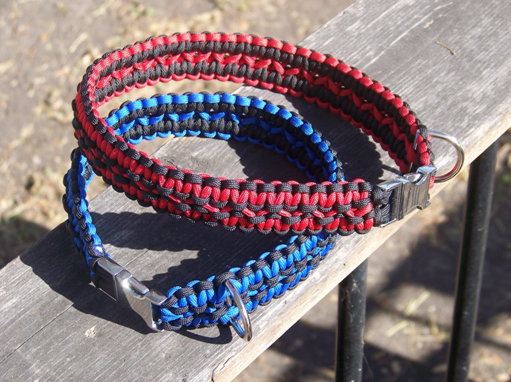 The dog leash comes in many different weaves, lengths and styles. They can have different handles from the normal loop handle to the monkey fist handle. The monkey fist usually contains a 1" solid steel ball bearing and is commonly used for self defense. The most used leash is the clip leash followed by the slip leash. The lengths of each leash can start at two feet, and can be made beyond six feet depending on what you desire. The four ft leash is the most commonly ordered by my customers. The styles of leash vary from the single, double, and the police leashes, just to mention a few. The picture below shows a few of the different styles in the cobra weave. This is the most commonly used weave. However, there are a lot of different weaves out there which, when finished, can be decorated with a number of different knots. The most common decorative knot is the Turk's Head Knot.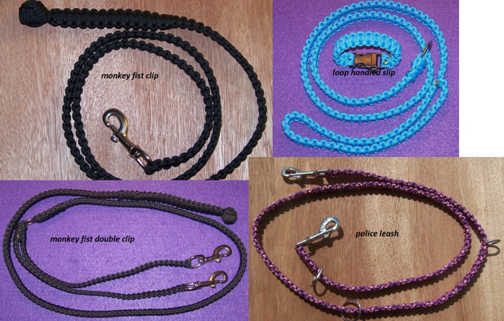 The 'biker get back whip' can be found in many different styles, colors and weaves. It will have a panic snap at the top of the handle which is hung from the brake or clutch lever on the handle bar, giving the rider easy and quick access to the whip. When I first started to make the whip, I used a monkey fist to weigh the bottom down and a few metal skulls to decorate the 9 tails. My preference in making the whip has changed since that first one. The monkey fist and the skulls have been replaced with 40 caliber brass casings and the heavier 180 bullet. With the nine tails this is enough weight for the whip to hold down while riding on a bike. I use a box spiral weave. This is a round weave, which makes the whip more aerodynamic compared to the cobra weave which has a more flat surface. The whips are usually between 31" – 32" in length from the top of the panic snap to the bottom of the last bullet. The picture shows how I use two colors on the spiral box weave to make the whip really stand out.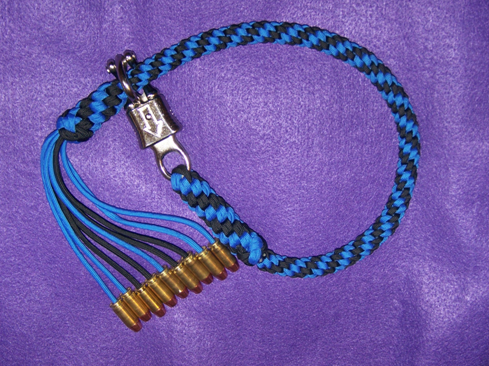 The picture below is a mish-mash of items I have made in the past. I hope that by taking a look over them you will want to grab some cord and start to make your own items.
The beauty of paracord is you can make anything you set your mind to make. With a little imagination and the trial and error that comes with this hobby, you can turn a hobby into a small business. As I said before, I sell my items on eBay, Facebook, and locally. Even with the scraps of cord you will have left over, you can turn them into simple key fobs, fishing lures and a lot more. Being a novice and starting to cord is rewarding too, even if you just make items for yourself. There are a lot of groups on Facebook that you can join. All of the people in these groups started the same way, with a need to make something and to keep their minds active. Most of them will be glad to help you with questions. A few even make instructions, with both video and pictures to help you start. YouTube is also your friend as the magnitude of video instructions on there is just breath taking. A good place to start on YouTube is the Macramé School. You will find their page here.
This is a link to my eBay page and my Facebook page. Feel free to take a look. Thank you for reading and have an awesome day.
- Bernadette Eary