6 Round Paracord Bracelets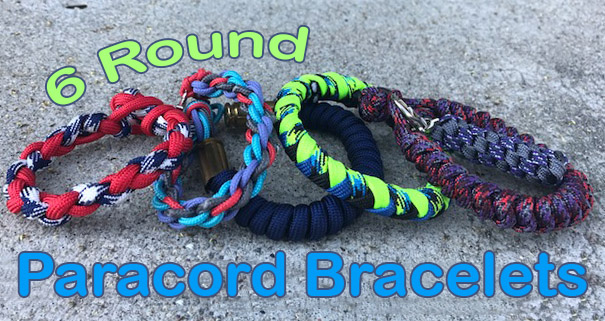 With thousands of different paracord bracelet tutorials available + different colors + color combos + sizes of paracord, there's millions of different paracord bracelets to be made.
While they all might be fun to make, I think we all have a certain style we like to wear. As I wrote about in previous blogs, some people like wide paracord bracelets while others like to wear thin paracord bracelets. We all have different styles and personalities.
With that in mind, I set out to find some fun styles of bracelet "groups" to help you find new ones to make and wear.
Here is the 3rd installment in my bracelet styles series: Round Paracord Bracelets.
Round paracord bracelets are my personal favorite to wear (in fact, I'm wearing one right now). I like them because they're typically smaller and you can wear more than one at a time if you want.
Let's get to crafting!
#1 Four Strand Round Braid Bracelet
The four strands of this bracelet gives it a thin and rounder look. I like doing this bracelet with two different colors for unique looks for holidays such as 4th of July and Christmas.
#2 Snake Knot Bracelet
I like the snake knot because it's fun to make and works great as a bracelet (with or without a buckle) and a keychain. Since it's a knot, it holds itself together so you can adjust it very easy.
#3 Round Crown Sinnet Bracelet
This one is the biggest of these examples. It's a variation on the Square Braid so if you know that weave, you can easily do this one as well.

#4 7 Strand Bracelet
I love this one because it uses a loom. Never used a loom? No worries. You can make it with just a scissor and a piece of paper. Using a loom makes this bracelet incredibly easy and fun.
#5 Four Strand Braid
Use 4 different colors for a really cool look with the Four Strand Braid. I also like this one a lot because you gut the outer cords and it gives it a thin, but perfectly round look.
#6 Bullet Casing Bracelet
I don't have a tutorial for these, but if you love hunting or shooting, this is the perfect bracelet for you. All you need is super glue (or a hot glue gun), bullet casings and wire. You can do really whatever weave you like around the wire. The bracelet on the right is done with snake knots and the bracelet on the left is just wrapped around the wire.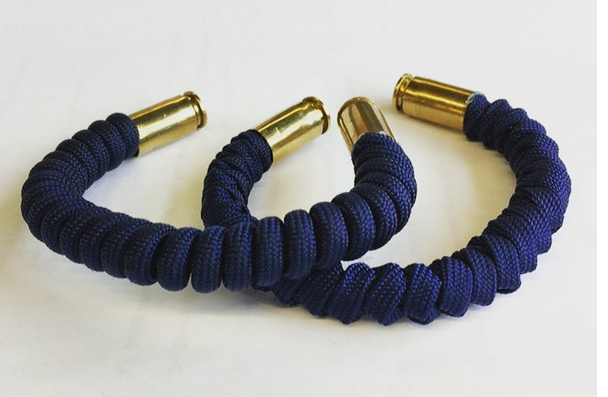 What are your favorite round paracord bracelets?
Let us know on Facebook, Twitter, Pinterest, YouTube and Instagram and be sure to follow, like, and subscribe!
Happy Cording, Lauri