5 Paracord Crafts to Make for Mother's Day
Mom. She gave you life, she's your friend, she's your confidant. Whether she's your mom, the mother of your kids, your grandma, or the woman who raised you - don't you think she deserves something from the heart? There's no way to truly thank them enough for all they've done for you throughout the years, but a heartfelt and thoughtful gift is a great place to start.
Here are 5 paracord crafts to make for the special mother in your life.
#1 Celtic Heart Bracelet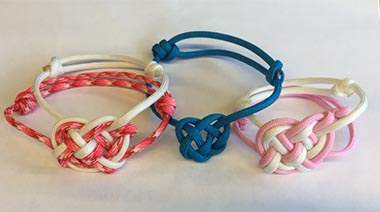 The Celtic Heart is an easy and fun knot to make. You can make it work with 1 or 2 cords and a multitude of colors. Making your mom this heart will show her you really care and put effort into a homemade gift. P.S. the Celtic Heart can also be made into a necklace. Click here to learn how to make the Celtic Heart Bracelet.
#2 Heart Decoration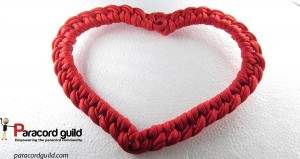 (photo via paracordguild.com)
The paracord heart decoration is a simple and unique way to give your special someone a gift from the heart. It can even be hung on the wall all year round. To learn how to make a paracord heart decoration, click here.
#3 Heart Stitched Cobra
#4 Seven Strand Bracelet

This particular bracelet is one of my favorites to make. It's super easy and comes out looking really cute and dainty. A great addition to this would be a charm in the middle or by the clasp.
#5 "Birthstone" Bracelet
Now, I realize you can't make a paracord bracelet in the exact right colors of a birthstone. But, if your mom loves to craft with paracord, how neat would it be to make her a one of a kind paracord bracelet in all the "birthstone colors" of her children. For example, my birthday is in July and my brother's birthdays are August and November. So I would use a red color such as Scarlet Red for myself and Green and Yellow for my brothers.To see what color best matches your birthstone, see our color chart.
There are so many ways to make paracord crafts personal for someone special. What have you done?
Let us know what you think in the comment section or on Facebook, Twitter, Pinterest, and Instagram.
Paracord Love, Lauri