5 New Cobra Bracelet Variations to Try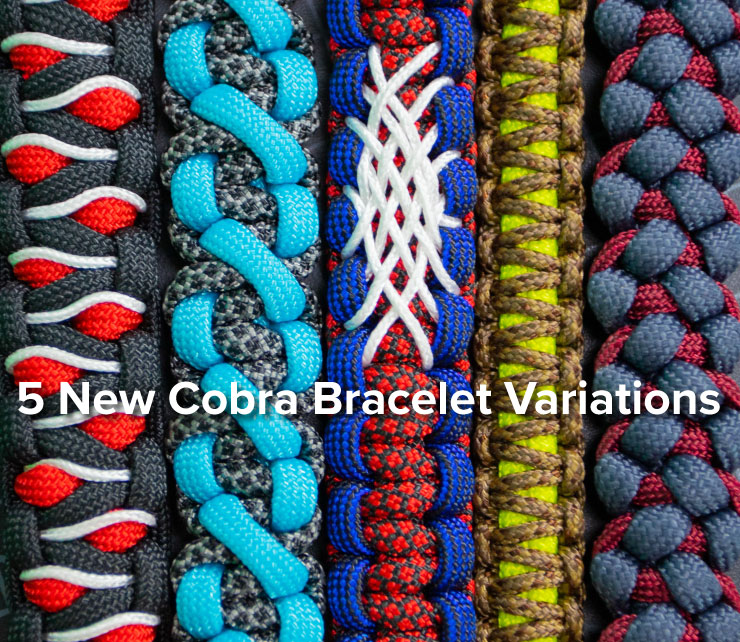 So you know the cobra (Solomon bar) and you're ready to move on to something else. Did you know that there are tons of simple variations of this knot that don't take much additional knowledge to tie?
Here are 5 simple variations on the basic square knot paracord bracelet. Some of them add an extra string of paracord, and others slightly modify the way the knots are tied. Click on the images to find a tutorial for each.
After you finish this article, you might want to read an older series of blog posts on the same subject: 5 Variations on the Cobra Weave.
Paralix
Not only does this one have a cool name, the result is quite unique. And while it looks a lot different from a cobra, this design is actually pretty simple to create.
Cobbled Solomon
This one doesn't look like a cobra bracelet at all. It's modified tying method turns the simple cobra survival bracelet into something else entirely.
Laced/Stitched
This is more than just one single technique. You can lace a cobra bracelet in tons of different ways using micro cord or 95 paracord. Look on YouTube for "Laced" or "stitched" paracord bracelet tutorials. Here are a couple of our own to get you started.
Small Diameter Cord
Another easy way to change up your paracord bracelets is by making them out of small diameter cord. Instead of lacing a 550 bracelet with 95 cord, you can make the weave itself out of 95. You can still use 550 cord for the middle if you don't want it to look too dainty.
Solomon's Dragon
This design resembles a dragon scale pattern. It takes some micro cord to really make it pop. Take a look at our Game of Thrones themed Solomon's Dragon Tutorial.
After reading this, I hope you are inspired to try some new bracelet weaves. If you make one of the above designs, be sure to send us pictures. Each Monday, we post some of our favorite fan creations to Facebook with hashtag #mondaymedly. Hope to see you there!