Making rifle slings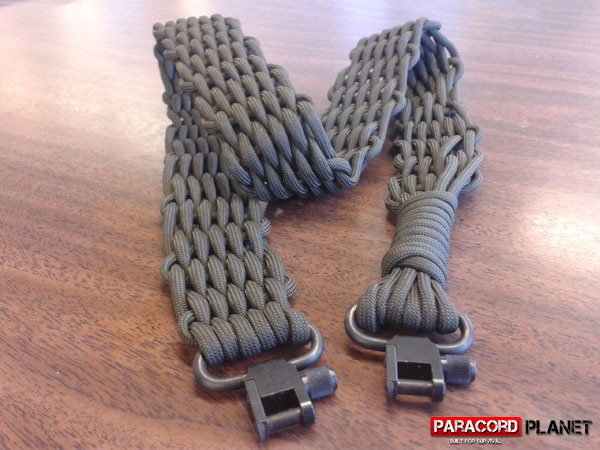 We at ParacordPlanet.com have been trying to find an economical way to make a rifle sling for some time. It's a product that we keep getting requests for but so far we haven't found a braiding pattern or weave that meet our standards. Today I experimented with a little known weaving pattern that I have seen periodically across the interwebs.
The weave is very basic and contains a great deal of paracord in a very neat pattern. To make it I connected two sling swivel studs on to a flat board. On those studs I mounted standard sling swivels to weave the paracord on to. In this case I used approximately 80 continuous feet of paracord. Please keep in mind that this is a prototype and if it comes to pass that we use this weaving pattern, it will probably be a little different. I didn't write step by step instructions but the weave is pretty much self explanatory. Here are some pics of the process.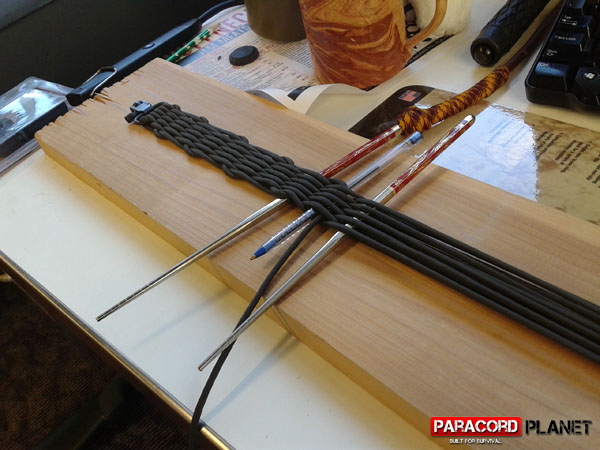 State of the art paracord technology. Chopsticks and a pen.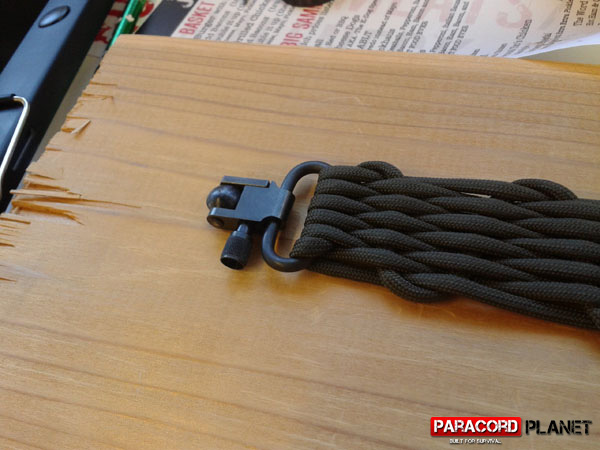 Attached to the board with rifle sling swivel studs.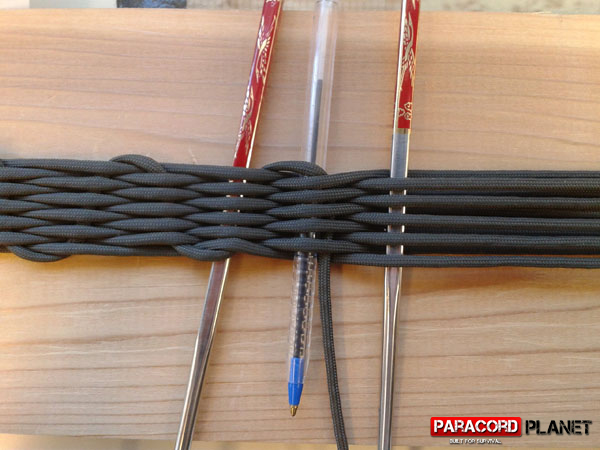 You can kind of see how the pattern goes.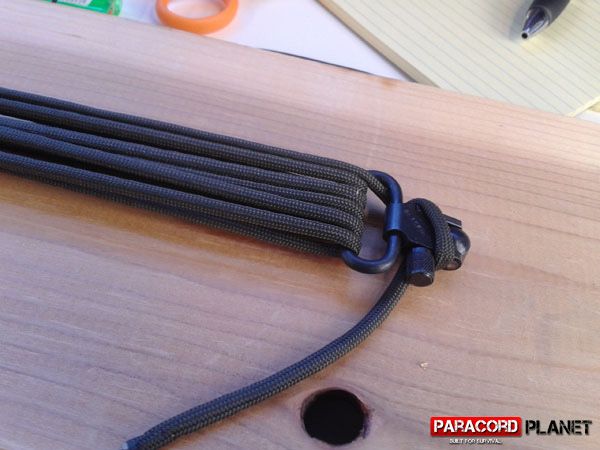 The excess is tied off with a simple square knot, to be finished later.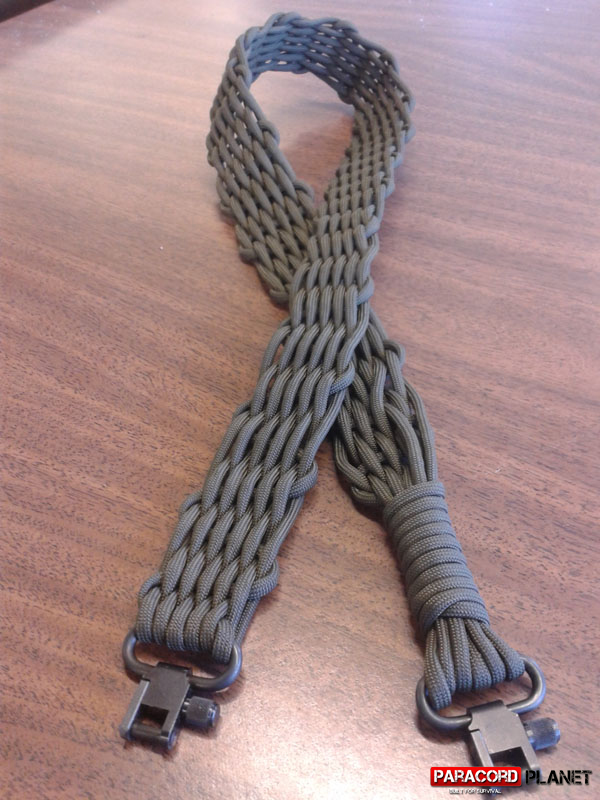 The almost finished prototype.
I say almost finished because after I took these pictures I wasn't quite satisfied with how it turned out so I went back with the excess paracord and wove it back through. Here is a close up of the final weave after the second weave: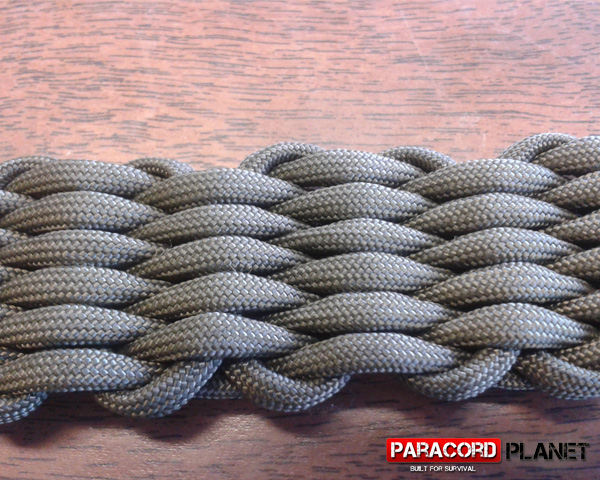 The excess paracord was woven back through in the same pattern as the first time, giving it a more complete and solid look and feel.
There are still a few other weaving/braiding patterns that we are going to try out before we make a decision, but we really want your input.
Let us know what you think of this weave in the comments or even better, send us a message on facebook.
Gregory Damms
Date
9/14/2012 1:49:01 PM
I like it.
Troy Rosenlund
Date
9/15/2012 7:39:36 PM
It looks very durable and rugged, but the design seems kind of bland. Maybe if instead of going through the middle of the cord, maybe go above and below going all the way down. That way you can see the weave alot better and it looks more finished. Just a suggestion though. :)
Hey Man this looks good! I like what you did with the end, almost perfect for me, i would have to wear it to make sure, when my gun is shouldered i like to hold on to it a little further down. Yep it really looks good, I eaven like the color! Have you come up with any others would like to see them!
TJ Askegaard
Date
1/24/2013
how much paracord did you use in that weave?
This is a standard weave that has been in common use for several hundred, if not thousands years. The first pass of the first layer has to go under itself to lock in properly. that will allow you to pack the overlaps onto each other tighter from the very beginning. I am a big fan of simpler is better so the plainness of this weave appeals to me. It also has the advantage of being on piece of cord. The only better way is to Knit the strap then it will unravel into one piece very quickly i
Landon Pruiett
Date
6/5/2013
I make mine way different, this looks kind of hard to me!
NICE!!. I used to do macramé and this is just a reminder of the great items to be made-simple, easy and elegant. Thanks and blessings on your info.
Great for my gun when I go hunting with my dad and after. We have made a sling before an left some extra paracord put a key ring on it and you could put a coyotes legs through the key rings . I LOVE PARACORD !!!!!!!!!!!!!!!
Great for my gun when I go hunting with my dad and after. We have made a sling before an left some extra paracord put a key ring on it and you could put a coyotes legs through the key rings . I LOVE PARACORD !!!!!!!!!!!!!!!
ronald c dugan
Date
1/17/2014
I have used this pattern several times. It is easy but I have trouble with the length of the cord.
sharon crum
Date
3/22/2014
I THINK IT IS VERY NICE. BUY HOW MUCK PARACROD DID YOU USE AND CAN YOU PUT AJUSTABLE PARTS ON THE SLING.
Hi to every body, it's my first pay a quick visit of this website; this weblog contains awesome and genuinely excellent information designed for visitors. Feel free to surf to my blog payday loans - http://instantpaydayloanspa.ca
THE FIRST PART LOOKED UNFINISHED BUT WEAVING THE EXTRA CORD BACK THROUGH MADE IT LOOK COMPLETE ,BUT I THINK IT NEEDS TO BE THICKER FOR MORE COMFORT PARACORD IS THIN AND WITH A HEAVY GUN THIS MIGHT CUT INTO YOUR SHOULDER. I would like to know if there is a way to do a triple cobra with a single stretch of cord?
Roy Boucher
Date
9/22/2014
Where do I order one?
James Vinson
Date
11/30/2014
What is this weave style called
Does anybody make single point AR style tactical slings
Yes Jeremiah. This company does. I am not affiliated with them at all. http://www.treadoutdoor.com/cgi-bin/commerce.cgi?preadd=action&key=U002