Guest Post - Braiding Horse Tack out of Paracord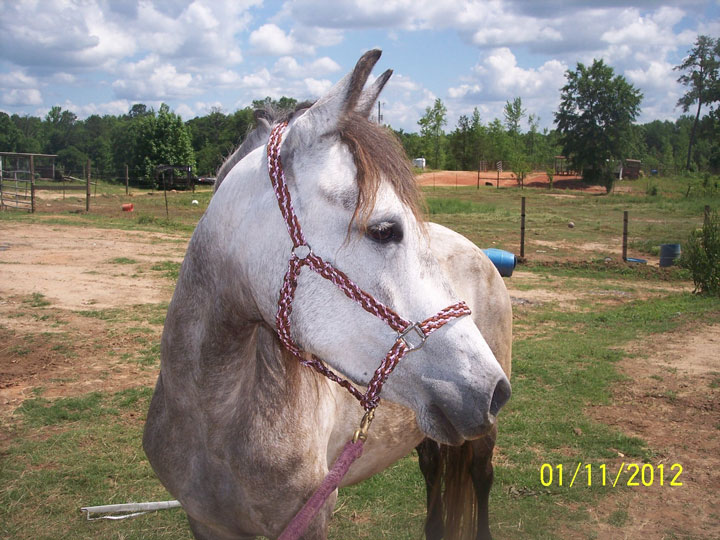 Hi, my name is Tiffany Norris and I have been training horses for many years. Horse tack are the tools in my business so I have alot of it and often need something different for a new horse.

A couple of years ago when I was having to take a day every month to clean and oil all of my tack, I started contemplating starting to make my own. I started using some nylon rope that I found at a local do it yourself store but I was not totally satisfied with how it lasted or how it looked. I tried different mediums until one day I ordered some paracord off the internet. I was not sure how it would last or hold up so I used it for a year before I would sell it to anyone that was asking about it. After a year, I decided that this was the best medium that I have ever used for horse tack!

My tack is used every day and is subjected to rain, sun, mud, heat, and cold and still looks brand new!! It is very easy to clean if it does get a little muddy or dirty by washing it off with a mild soap and hanging it out to dry. Slowly I have changed everything over to my braided paracord. My cross ties were continually breaking when new training horses would set back on them. I now have paracord cross ties and my hooks are a little bent but the cross ties have held and look great. Last month my leather saddle strings broke and so I now have paracord saddle strings. One of the advantages of having the paracord saddle strings is that in case of an emergency out on the trail, I have several feet of paracord to use to get me back home. I was braiding some tack one night and my boyfriends shoe string broke. I am sure that you can guess that I cut him off some paracord and told him to use this for shoe strings. He told me the other night that his paracord was still working out great as his shoe strings.

I started selling to friends and clients first as requests started coming in for reins, bridles, dog collars, over and under whips, tie downs, etc. I have now opened an online store at etsy.com and am selling through facebook and online auctions. You can contact me through my email at tiffanyno@aol.com.

I cannot say enough about how pleased I am with my paracord horse tack. I love the way it feels in my hands, how well it braids, how strong and durable it is, and how easy it is to clean. I have not even mentioned how many colors are available at Paracord Planet!! The color variety is just the icing on the cake for a GREAT BRAIDING MEDIUM for horse tack.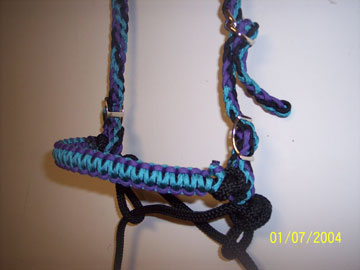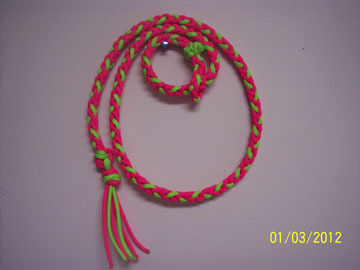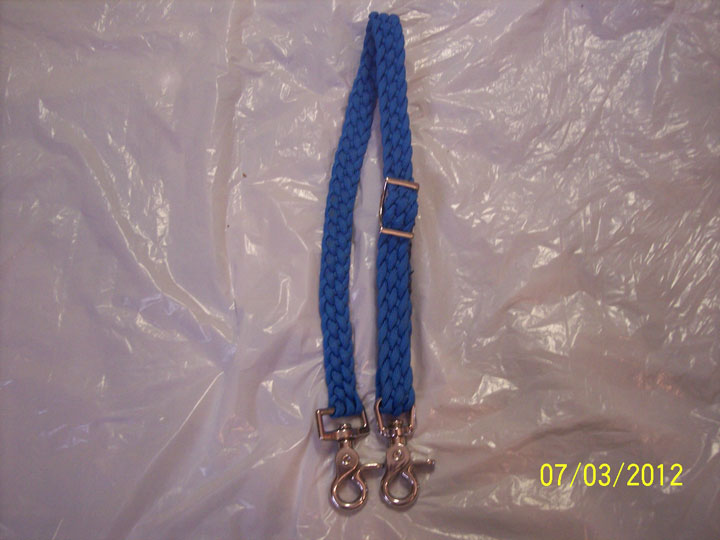 Brandon Guin
Date
11/26/2012
Id like to know more on this my girlfriend has been wanting one for her horse for years now and i don"t know where or how to start if u could get back to me on this id be so thankful.
Jamie Littleton
Date
1/2/2013
Hello, I was wondering if you could tell me how to make a paracord tie down for a horse? I recently started doing paracord items and a customer has asked for a tie down, and I'm not sure how to do the proper braiding for one.
I am completely in awe on how you made the bridles. I saw one about a year ago but could never find anyone who would help me make one. Well I just got the leather and I know how to flat braid but I could use someone to show me the ropes. If not, I understand. Thanks! Ena
Been trying to replicate the flat braid you have done on the blue piece above is there a specific name of the braid or weave
I've been thinking of a halter/bridle combo from Paracord.....Am I crazy ior has the thought ever crossed your mind???
Tiffany norris
Date
6/26/2013
Jac...I do know how to make the halter bridle combo, you are not crazy. Would love to see yours if you decide to make it.
Tiffany norris
Date
6/26/2013
Hey Dan That is called a flat braid on the blue wither strap and it is using six strands.
Sarah Bruce
Date
7/17/2013
I'm wondering if someone could tell me how to make the reins, or at least what braids to use :)
Hello, i was wondering i have been wanting a pair of paracord reins i always thought they were really really cool and was wondering you make halters bridles if you would make reins and if you could tell me how to make them?
I have paragliding for over a year now and I am in the process of getting horses and I also Mack these same things. They are not hard go out and try to make them your self. There fun and not very hard to do.
Sarah, the reins are made with either a flat braid or a round braid
Great post like you I train horses an have thaught of making my own para tack for years now paracord is popular I've started but I'm trying to find a better way to finish the ends or hide the melted ends the bridle above looks like its folded under an sewn?
Can you give any advice on how to end the braid for reins?Do you weave it back in somehow or just singe the ends? Are there any tutorials that you know of?
I actually back braid the ends back into the braid itself. There is no easy way to tell you how to do this , I would have to show you. I would suggest melting the ends together. I know some reins that I had bought before I started making them were just melted together.
What's up all, here every one is sharing such know-how, so it's pleasant to read this web site, and I used to visit this web site everyday.
Aw, this was a very good post. Taking the time and actual effort to produce a superb article… but what can I say… I hesitate a whole lot and never manage to get nearly anything done.
The movement is the heart, or engine, of any watch. The a lot of acclimatized casting Hublot watches here. Whether you want to buy or did buy a Sham - Wow, you have to love the commercial.
Howdy are using Wordpress for your site platform? I'm new to the blog world but I'm trying to get started and set up my own. Do you need any html coding expertise to make your own blog? Any help would be greatly appreciated! my webpage :: payday loans - http://ukpaydayloansth.co.uk
Hey! Someone in my Myspace group shared this website with us so I came to give it a look. I'm definitely enjoying the information. I'm book-marking and will be tweeting this to my followers! Exceptional blog and great design and style.
According to wikipedia, Invicta was founded in 1837. The a lot of acclimatized casting Hublot watches here. It is possible to recreate this layer when a person wants to keep their stainless steel items in like-new quality.
I think the admin of this website is actually working hard in support of his site, because here every data is quality based material. Feel free to visit my web blog: payday loans online - http://bestcashadvanceoffers.com
The next attractiveness is the Girls Stone Set Black Leather Strap Check out. This watch is water proof up to thirty meters and is 38. The company now offers a wide range of temporal accessories on their website.
The movement is the heart, or engine, of any watch. This watch is water proof up to thirty meters and is 38. So not only can you organize your kitchen with stainless steel canisters, but you can find steel canisters in all sizes to organize your office and other rooms.
I'm pretty pleased to uncover this great site. I wanted to thank you for your time for this fantastic read!! I definitely loved every part of it and I have you bookmarked to check out new information on your web site.
That is very interesting, You're a very skilled blogger. I've joined your feed and look ahead to looking for extra of your excellent post. Additionally, I have shared your site in my social networks
Katy Elizabeth Yager
Date
9/5/2014
think I'm going to make them for my family that has horses of their own
Eichelberger
Date
9/21/2014
My brother suggested I may like this blog. He used to be totally right. This publish actually made my day. You can not imagine simply how much time I had spent for this info! Thank you!
Can you do a tutorial on YouTube or something on how to make these? Thanks
Could you do a tutorial or something showing how to make a lead rope or something?
How many feet do you use for the round and flat braided reins?
Tiffany Norris
Date
2/17/2015
To find how much paracord you need , multiply the length you would like your reins to be times 3.
Tiffany Norris
Date
3/11/2015
The easiest way to make some tack for yourself would be a pair of reins. You can plait them like you plait hair. You would start with 9 strands of paracord and divide them into 3 sections. Burn both ends to melt them together.